Our goal is to protect the UAE from complex threats
In light of the major shifts in the technological field posed by emerging challenges and growing threats, EDGE group announced in October 2022, that it is changing the name of its subsidiary (DIGITAL14) to »KATIM«.
KATIM is one of the leading companies specialising in the development of innovative and ultra-secure communications solutions for defence, intelligence, government and private clients around the world.
To learn more about Katem, Al-Jundi Journal interviewed Mr Waleid Al Mesmari, Acting CEO of Katem, and Senior Vice President of Electronic Warfare and Cyber Technologies in EDGE Group, and had the following dialogue with him:
Talk to us about KATIM and its fields of work in general, and about the most prominent products that the company offers to its customers
Based in Abu Dhabi, KATIM develops innovative secure communications products for governments and businesses. As part of the Electronic Warfare & Cyber Technologies cluster at EDGE, one of the world's leading advanced technology groups, KATIM delivers trust in a world where cyber risks are a constant threat and fulfils the increasing demand for advanced secure communications capabilities.
Our priorities include building the UAE's sovereign defence capabilities, enabling the country to achieve solid cyber-resilience, investing in R&D, advancing technologies that enable secure communications, and empowering the world to transition to quantum-resistant cryptography.
KATIM provides a trusted comprehensive response to safeguard people and data in customers' organisations. Our strength resides in our proven competence and capability to deliver security, safety, and resilience through secure-by-design end-to-end solutions centred on four core business units: Networks, Ultra Secure Mobile Devices, Applications, and Satellite Communications.
KATIM Networks builds sovereign, post-quantum national crypto-capable products for next-generation data-in-transit security. We replace existing, outdated and untrusted networking solutions for the UAE government and military sectors with trusted, ultra-secure,and competitive network encryption devices to better serve the UAE's national security agenda.
KATIM Networks recently brought to the market KATIM Gateway 9011, an ultra-secure encryptor for large-scale deployment including sensitive entities, critical infrastructure campuses, government buildings, data centres, and businesses.
KATIM's Ultra-Secure Phones capture the essence of innovation. With research and development (R&D) centres in the UAE and Finland,we work with the brightest minds from around the world to continuously develop our solutions and adopt the latest technologies in our offerings. Our aim is for all UAE government, defence and public safety personnel to be equipped with KATIM devices, making the country and its people the most responsive, resilient,and protected nation in the world.
KATIM X2, a 5G ultra-secure smartphone for government leaders, top executives, and individuals and teams working with sensitive information, and KATIM R01, a ruggedised smartphone for critical communications in the harshest field conditions, are currently powering communications for people on the move as their secure devices.
KATIM Applications produces security-hardened communication and collaboration applications to serve the needs of security-conscious customers. We develop secure communication and collaboration applications for government agencies, the defence sector,and top businesses that handle the most confidential content and conversations – those who need complete control over their data through security-fortified applications for messaging,calling and conferencing. KATIM Application Suite is built on a secure-by-design philosophy with embedded security that is usable, comfortable, and invisible.
KATIM's SATCOM capability is being developed by a highly experienced team in the UAE. We aim to offer comprehensive, reliable, and secure systems for a wide range of tactical networks, platforms, and applications, including point-to-point links, tactical data links,and tactical radios.
How important is the UAE and GCC market to KATIM?
Our primary objective is to ensure that the UAE has the sovereign critical defence capabilities that it needs to secure the nation against complex threats. It is our most important market and our solutions are currently deployed and in operation across many critical sectors. However, in line with the UAE Leadership's directive, we are also aiming to become an exporter of technology and break into new markets, both in the region and further afield to key global markets.
What new products is KATIM offering?
With the scale and strength of EDGE, KATIM is doubling-down on its investment to be a global secure communications leader. We are currently working on a new generation of ultra-secure applications using post-quantum-cryptographic protocols, the 4th generation of the ultra-secure smartphone integrating AI capabilities and the most recent innovations in the industry, several quantum-resistant network encryptors for very specific use cases, and satellite communications.
We will be expanding our solution portfolio with the next generation of products in these areas to bring to market best-in-class cutting-edge technology as well as working with the best players in the world to create end-to-end solutions.
What are your most prominent projects for the next stage?
We have several ongoing large-scale projects locally as part of our sovereign defence capability for the UAE. We are also pursuing some very exciting strategic opportunities globally across our core business areas including secure communications in end-user applications, end-point devices, infrastructure, and end-to-end solutions.
What are your company's future plans?
Five years from now, KATIM will be known around the world as a global leader in secure communications. Building on our sovereign defence capabilities, we will bring to market cutting-edge best-in-class technologies and deliver state-of-the-art products and solutions locally and globally. We will achieve this by bringing together the brightest minds and talent in the world to enable our innovation roadmap.
KATIM is on an accelerated growth trajectory where we are focused on developing new technologies to expand our portfolio, acquiring technology to accelerate our objectives, and partnering with the best in the world to create integrated solutions that meet our clients' evolving requirements.
This strategy will power the 'Secured by KATIM' ecosystem and we will be expanding our presence and capability in several regions including Europe, Africa, Asia, and South America as part of EDGE's target markets.
What are your recent biggest accomplishments in the defence sector?
The launch of KATIM, following its restructuring and successful integration into EDGE's Electronic Warfare & Cyber Technologies cluster, is a major development which will strengthen our position to take on future growth plans locally and globally as a leader in the secure communications space.
During this period of major change, we continued to deliver on our promise to customers with successful deployments, increased our investment in product development, signed new deals, expanded our international presence, and positioned our products for success in key strategic international deals.
Would you like to send any message through Al Jundi Journal to the defence community in general, or in the UAE in particular?
The advancement of communications and information technology has created a hyper-interconnected digital world. The threat landscape has radically evolved and data is no longer confined to internal networks. With that comes an incremental increase in security threats often through the weakest link: Communications.
Organisations must prioritise secure communications to protect their most valuable assets: sensitive information and data. We must adapt to the new reality and act timely to secure the future.
At KATIM, we are aiming to lead and dominate this market with amazing user experience, invisible security, and world-class products. We are on a mission to protect and secure the world with the brightest minds.
KATIM will go 'beyond limits' to challenge and redefine the future of ultra-secure communications.
Profile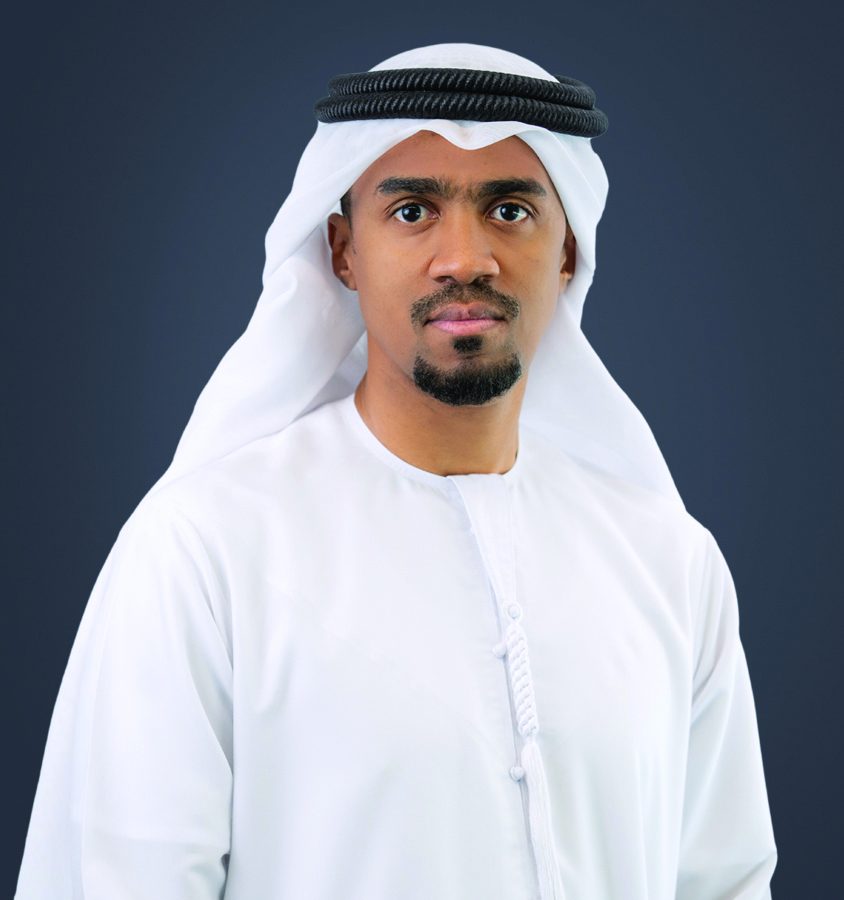 Waleid Al Mesmari
Acting CEO of KATIM
Senior Vice President, Electronic Warfare and Cyber Technologies (EW&CT) cluster at EDGE
He has 15 years of experience in project management and strategic planning.
He served as Manager of Business Analysis and Strategic Planning at the UAE Government
He worked for Etisalat as head of Ankabut Network
He holds a Master of Business Administration (MBA) degree from the Abu Dhabi School of Management.
He has a Bachelor of Computer Engineering degree from the Etisalat University College in Sharjah.