H.H. Sheikh Hamdan bin Mohammed bin Rashid Al Maktoum, Crown Prince of Dubai, Chairman of Dubai Executive Council and Chairman of the Board of Trustees of the Dubai Future Foundation (DFF), has announced the launch of the Dubai Centre for Artificial Intelligence (DCAI) at Emirates Towers, AREA 2071, attended by H.H. Sheikh Ahmed bin Mohammed bin Rashid Al Maktoum, Second Deputy Ruler of Dubai and Chairman of the Dubai Media Council.
The new Centre aims to assist government entities in deploying future technologies across key sectors.
H.H. said Dubai continues to rapidly advance its adoption of new artificial intelligence and future technologies in step with the evolution of global technology innovation. This aligns with the vision and directives of His Highness Sheikh Mohammed bin Rashid Al Maktoum, Vice President, Prime Minister and Ruler of Dubai, to position the emirate as a global leader in preparing for emerging opportunities and challenges, as well as shaping the future.
"Dubai's government will be the best in the world in deploying artificial intelligence (AI) within its various entities. This new Centre is the first step in achieving this goal and developing future services to keep pace with rapid technological advancements."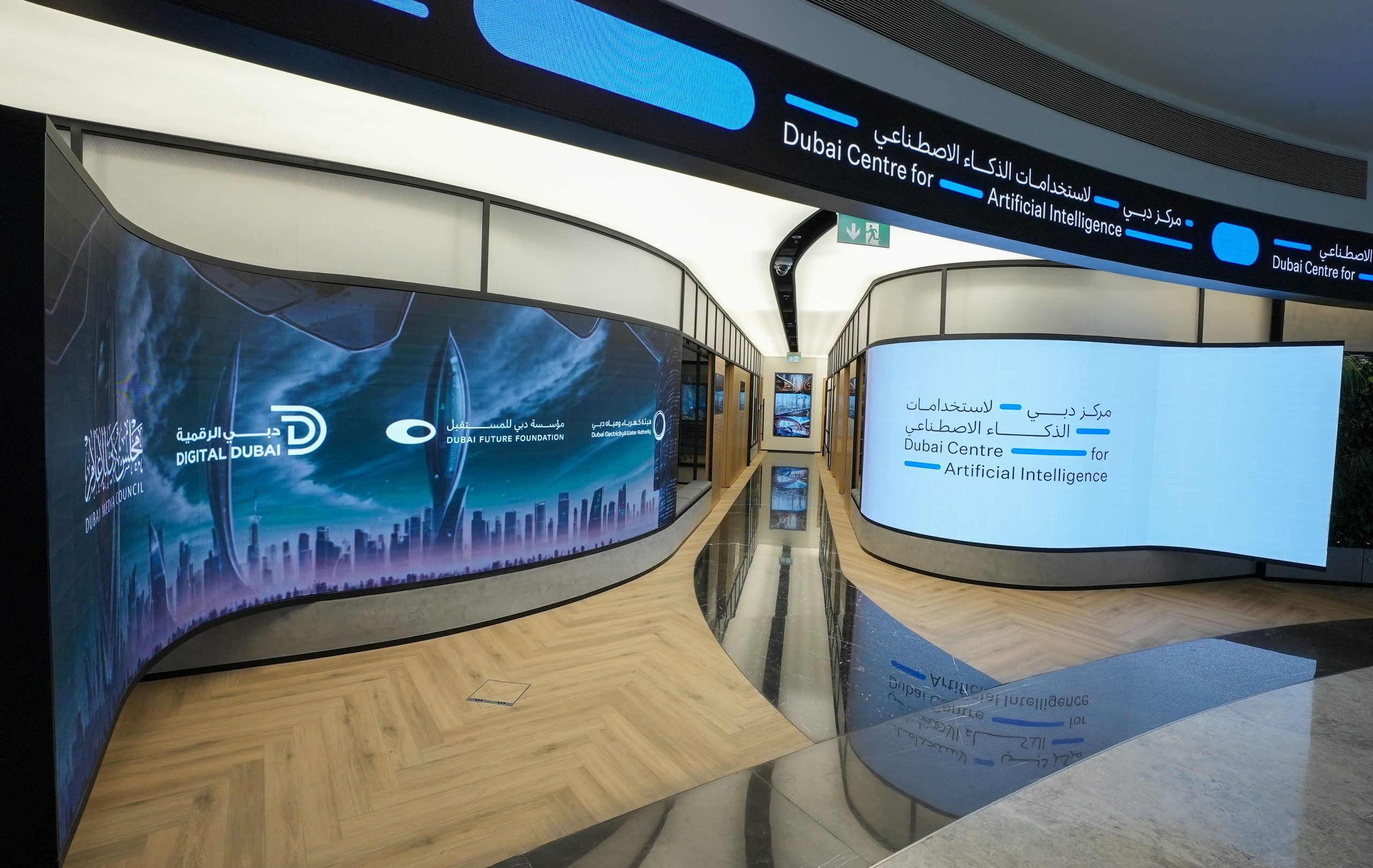 Encouraging Employees
H.H. encouraged employees across all of Dubai's government entities to apply generative AI tools to enhance productivity and optimise government services based on future technology.
Sheikh Hamdan added, "The applications of generative artificial intelligence technology will be one of the tools for work and achievement in our government sector.
Technological development is moving very rapidly, and in Dubai, we are determined to be just as fast in testing and harnessing it for the benefit of society. We want new AI-powered government tools to have a clear impact and tangible results."
The Dubai Centre for AI aims to train 1,000 government employees from over 30 government entities on the uses of generative artificial intelligence. This training program aims to enhance the productivity of government employees through the utilization of AI applications.
Additionally, the centre plans to launch experimental projects and improve government services that can benefit from these applications.
 Furthermore, the centre provides support to over 20 startups in the advanced technology field of AI from both the UAE and around the world.
"We are confident that developing AI applications will contribute significantly to actualising Dubai's vision for the future. The technological leaps we see today will only be the beginning of our journey towards an entirely new and different future, with transformative changes in health, education, economy, media and government sectors," Sheikh Hamdan further said.
The Dubai Future Foundation, Dubai Electricity and Water Authority, Dubai Media Council and Dubai Digital Authority will oversee the implementation of the Dubai Centre for AI's goals and outcomes in cooperation with relevant authorities, with a focus on developing legislation related to AI applications, attracting top global technological solutions and developing national talent.
The launch of the initiative forms part of implementing His Highness Sheikh Mohammed bin Rashid Al Maktoum's directives to apply the latest AI technologies in varied sectors, including government and media.
It aims to explore how to positively and securely deal with these technologies, considering the global expectations of the exponential growth of the AI sector, with its market value projected to increase from $10 billion in 2022 to $110.8 billion by 2030, at an annual growth rate of 34.3%.
Generative AI will account for 10 per cent of all data produced by 2025. Meanwhile, in the healthcare space, more than 30 per cent of new drugs and materials are also expected to be systematically discovered via generative AI techniques within the next two years.
Three pillars
The Dubai Center for AI will focus on three main pillars in the coming period, including: defining the necessary laws, policies, and regulations; enabling skills and expertise; and adopting modern technologies and fostering innovation.
The centre will contribute to the development of legislation and laws related to the use of advanced technology, as well as study the ethical and social impacts of interactive artificial intelligence (Generative AI) applications, ensuring their alignment with the societal and human values in Dubai and the world.
There will also be an introduction to the importance of using Generative AI through organizing workshops and specialized training programs. These initiatives will provide government teams, researchers, and AI specialists with the opportunity to learn about the best global practices and experiences. Additionally, they will engage with various segments of the public to increase awareness and interest in the potential and benefits of interactive artificial intelligence through a variety of events, lectures, and panel discussions.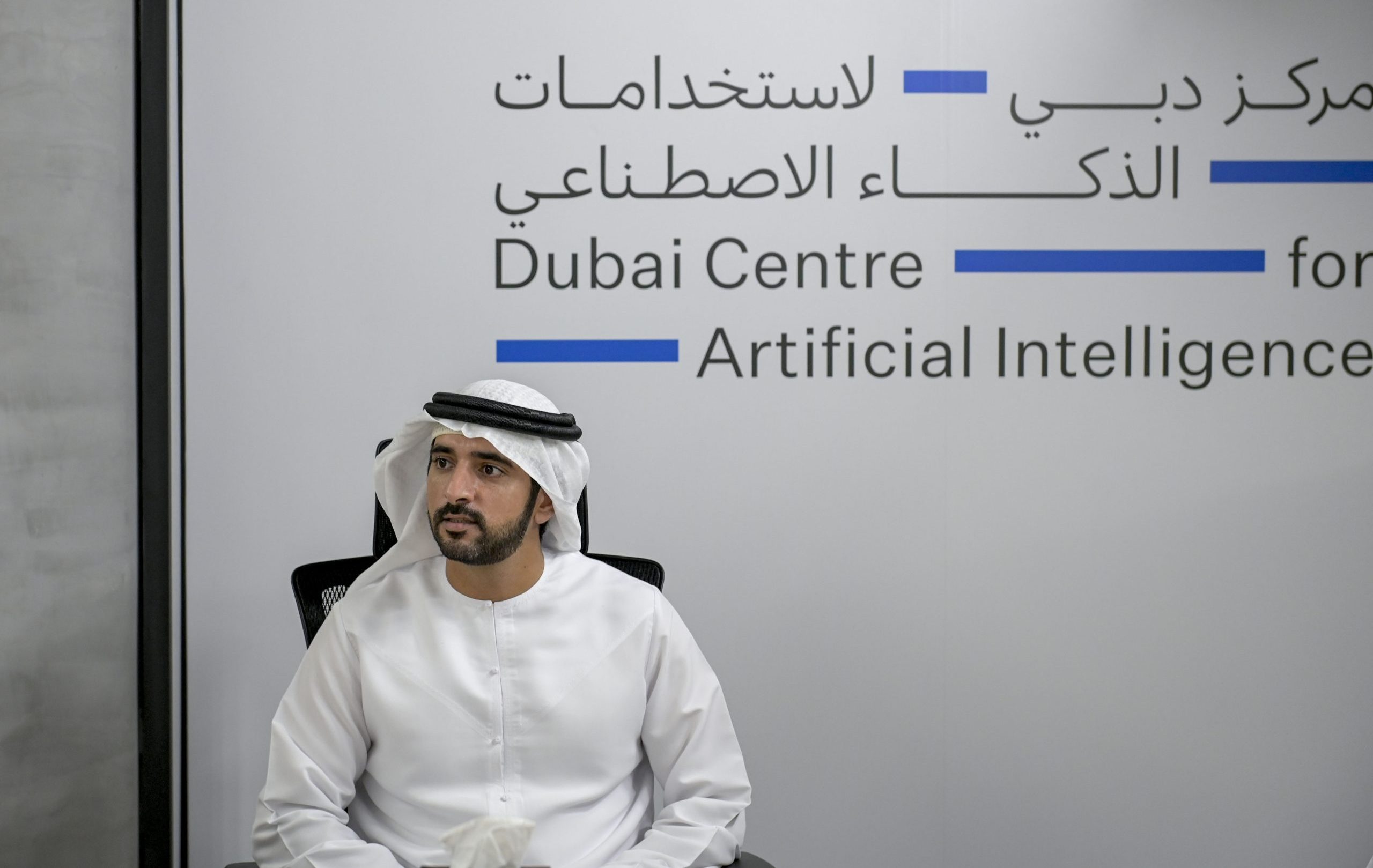 Generative AI in government
The Dubai Centre for AI will enhance the performance of the government sector in various ways. For instance, it will use AI to conduct simulations that study the changes and impacts of new policies and legislation, predict the results of different scenarios, evaluate the effectiveness of programmes, and support complex decision-making.
These applications will also improve government efficiency, reducing costs, and assisting in document and project management.
Moreover, they will simplify procurement procedures and processes, thereby reducing instances of delay.
Furthermore, they will enhance communication between different departments and suppliers, facilitating smoother operations.
The Centre will bolster the development of government services by predicting user needs and preferences. It will establish communication channels to streamline public services and employ data analysis tools to identify trends and insights that can help government entities in making informed decisions. Generative AI will also be harnessed to ensure the delivery of superior government services tailored to the needs of Dubai residents.
Platform for cooperation and enhancing Dubai's leadership
The Dubai Centre for AI serves as a collaborative platform for the government, private and academic sectors to develop AI applications and introduce innovative services and products, incorporating the most advanced technologies.
The Centre's initiatives will reinforce Dubai's status as a regional leader in AI research, development and innovation by fostering cooperation with major international technology companies and leading academic institutions.