The Training Center in Manama of the Armed Forces received the nation's youth of the 15th batch of the National Service "the first group" of employees amid preventive and precautionary measures to ensure their safety, and taking all measures to provide maximum protection for all national service recruits in order to preserve them and protect them from the pandemic, under the supervision of Zayed Military Hospital
Those enrolled in the National Service flocked to the Manama Center on January 17, 2021, and they were registered in the course. All the enrolled delivered the requirements for recruits in terms of clothes and their own custody. They were introduced to the camp and the rules of procedure in addition to organizing lectures by the trainers before the opening of the training course where the students showed great turnout, enthusiasm and confidence in joining the service.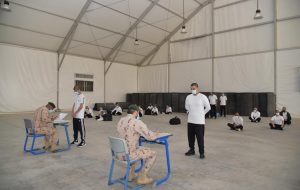 The reception stages were proceeding in an excellent manner of control and commitment, starting from the stage of reception and registration through all stages of training, and this is one of the basics of training so that the national service recruiter is able, physically and psychologically, to withstand the maximum physical, mental and psychological pressures without losing his ability to apply his skills and qualify for the future as a reserve soldier who protects his homeland
The national service program in the first phase focuses on converting recruits from a civilian to a military one, through military training, carrying and using weapons, accustoming them to military discipline, enhancing their level of physical fitness, consolidating national values ​​in them, refining and developing their leadership skills. After that, preparing and qualifying the volunteer recruits start in the international event Expo 2020 Dubai through a set of training courses to ensure that they fulfill the roles assigned to them and professionally carry out the tasks assigned to them to the fullest.
It is noteworthy that the National and Reserve Service Authority and the Expo 2020 Dubai office signed a memorandum of understanding aimed at the participation of employees of the national and reserve service in Expo 2020 Dubai, where the members of the national and reserve service will participate with about 30,000 volunteers in welcoming the world to the land of the UAE and receiving millions of visitors during the period of the international event.