Several naval forces around the world are opting to get more corvette-class warships because such smaller vessels could be acquired in large numbers relatively cheaply to significantly expand the fleet.
Such vessels are optimized for offensive strike and intelligence, surveillance and reconnaissance missions—akin to 'see, shoot and scoot'. They would be stealthy and would ideally operate unmanned aerial vehicles for surveillance and strike tasks. 
Next generation
With the next generation of corvettes, optionally unmanned or accommodating more autonomous vehicles, they could be the answer for naval armament during the present decade. As Malcolm Davis, a senior analyst at ASPI, quoted a report by the US Center for Strategic and Budgetary Assessments that highlighted the value of larger numbers of small surface combatants—referred to as 'optionally unmanned corvettes' or DDCs—that come with a small crew and equipped primarily with offensive weapons.
These small warships are generally used, in peace or war times, for activities such as maritime patrol or as fast attack crafts. 
Stop-gap vessel
The corvette has been a significant component of naval forces across the world for over many decades.  Dimensions and smaller size are the most important feature of the corvette, which serve as a preparatory vessel in crucial wartimes, especially as a stop-gap between the larger naval combat vessels. In addition to offering required support to large fleets, the other duties of the corvette include coastal patrolling, participating in minor wars and partaking in show-the-flag missions.
World War II
Flower class corvette took part in military operations for first time in World War II, when British Royal Navy used 294 Corvettes of the "Gladiolus" class in the naval battles. 
But the term "corvette" was first used by the French Navy in the seventies of the 17th century as the stem of corvette originates from Middle French that dates back to the 14th to the 17th centuries. It means basket and its Latin origin is corbis. 
Heavily armed
Nowadays, corvettes are heavily armed with surface-to-surface, surface-to-air missiles, and anti-submarine torpedoes, as well as sophisticated guns. 
Size and equipment of corvettes vary with lengths, ranging from 55 meters to 100 meters, with displacements starting from 500 tonnes and reach 2750 tonnes. A corvette can be equipped with advanced mine hunting and disposal systems, surveillance radars, in addition to deck for helicopters and drones. 
Small and agile but still bigger than a standard coastal patrol boat, corvettes such as the Visby, Braunschweig and SIGMA, play a significant role in some of the world's strongest naval forces.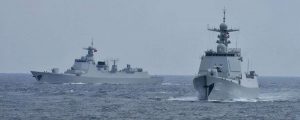 Stealth philosophy
The design of the Visby-class corvette is based on profound experience centered on key areas for any littoral vessel; stealth, speed and maneuverability.
Designed in accordance with Saab's stealth philosophy, taking an integrated design approach to signature reduction. Visby-class corvette leads the world in naval stealth reduction across the full signature spectrum, including radar, infrared, acoustic and magnetic design. 
Superfast
The Norwegian-built Skjold class of naval corvettes is a range of large, superfast attack craft in service with the Royal Norwegian Navy. The Skjold class has been known to reach speeds of up to 60 knots in calm sea, using four gas turbines to propel the 47.5 meters long lightweight attack craft.
Armed with anti-ship missiles (ASMs) equipped with GPS midcourse and a dual-band imaging infrared seeker guidance, the Skjold class also holds a Super Rapid multi-role cannon, 2 heavy machine guns, a Mistral surface-to-air missile, and works with the Protector remote weapon station. It is also protected by the CS-3701 electronic warfare (EW) suite.
German fingerprint
Coping with global naval forces trend of expanded reliance on corvettes, five ships have replaced German Naval Forces' Gepard-class fast attack craft. They are newest class of ocean-going corvettes, K130 Corvette (K130 Braunschweig class), with five corvettes are additionally planned to be constructed from 2019 to 2023. The five planned corvettes will be named "Köln", "Emden", "Karlsruhe", "Augsburg" and "Lübeck,"after the cities that sponsor them. 
Moreover, the German navy tested the new Skeldar Sea Falcon drones from the deck of the "Braunschweig" K130 class corvette. It is the first maritime unmanned flight system of its kind and is intended to expand the reconnaissance radius of the corvettes of the German Navy in the future.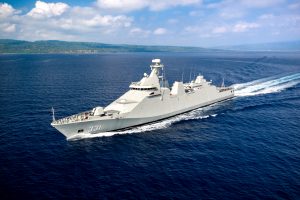 Piracy combat
The French-made Gowind-2500 vessels are characterized by range of 4000 nautical miles at 15 knots, with maximum speed reaching 25 knots. Packed with the latest technological advances, Gowind-2500s are 103 meters long, multi-task with displacement of up to 2540 tons. With 80-person crew (including the helicopter detachment) tasks of Gowind-2500 corvettes proved efficient for naval piracy combat missions in addition to military operations. 
Corvette Carrier
According to a viewpoint raised by Lt Col. Colin D. Smith, US Marine Corps, who is an engineer and Eurasia foreign area officer currently serving as Commandant of the Marine Corps Senior Military Fellow to the Center for a New American Security, in a topic published at US Naval Institute USNI website, US Navy has long identified threats in the littorals and the need to fight within these close waters, but it still struggles with creating a capable fighting force that provides speed, lethality, and a deterrent. 
The solution to the naval littoral problem is merging sea basing with the Navy's World War II and Cold War fast-attack concepts. Older dock landing ships, such as the USS Whidbey Island (LSD-41) class, have a large well-deck designed for transporting Marine connectors (landing craft air cushioned [LCACs] and landing craft utility [LCUs]). Instead of connectors, why not load dock landing ships with two Skjold-class missile corvettes (currently used by the Norwegian Navy) or similar boats, Smith added. One of the fastest naval platforms afloat, the Skjold can do 60 knots, carries 8 Naval Strike Missiles (a weapon coming to the U.S. inventory), a 76-mm OTO Melara cannon (also familiar to the U.S. Navy), and a crew of 20 or fewer. Loaded with fuel and missiles for rearming, a corvette carrier could rapidly deploy two stealthy corvettes such as the Skjold with an 800-nautical-mile range, capable of threatening an adversary surface fleet or naval base with a barrage of surface-to-surface missiles, he wrote. 
NOMARS
A new project within the US Defense Advanced Research Projects Agency is currently working to advance the Navy's broad goal of fielding a fleet of unmanned surface vessels to counter Russia and China on the high seas.
DARPA's program, called NOMARS (as in "No Manning Required, Ship"), is reportedly seeking to rapidly mature the technology beyond the service's existing capabilities.
DARPA plans on going with a radical new design for its next-generation robot vessel, and said in solicitation that
"NOMARS will challenge the traditional naval architecture paradigm, designing a sea frame from the ground up with no provision, allowance, or expectation for humans at sea".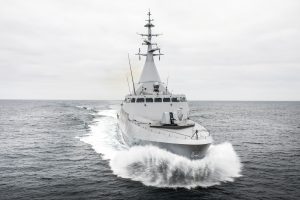 SIGMA for Gulf navies
The vessel was designed to answer the specific needs of navies in the Gulf region. Its main missions are naval warfare, maritime security, in addition to humanitarian and safety missions.
With a length of 61 meters and a beam of 10 meters, the SIGMA 6110 displaces 639 tonnes. Its maximum speed is 32 knots, its range is 6000 nautical miles at 15 knots. The endurance is 14 days. The crew is approximately 30 sailors. 
SIGMA 6110 features  76mm main gun, 8 vertical launch systems for VL MICA surface to air missiles. It is equipped with NS 100 radar under a dome and 2 30mm remote weapon stations with short range surface to air missiles, and is protected by German-made Rheinmetall MASS decoy launchers.
Nuclear missile aboard
Russia's Buyan-M Corvette pushes the limits of what a shallow-draught warship can do. Designed for rivers and the relatively calm waters of the Caspian Sea, the Buyan-M has already seen action during the Syrian war, launching Kalibr cruise missiles on ISIS positions. The missiles traveled 1,500 km struck terrorists' positions in Raqqa, Aleppo and Idlib provinces. The Kalibr 3M-54 («Sizzler», SS-N-30A) is a long-range, low-flying cruise missile capable of carrying conventional or nuclear warheads. 
It also houses A-190-gun mount of 100 mm caliber, Gibka launchers for the Igla anti-aircraft missiles and the AK-630-2 Duet air defense gun system. Its displacement reaches 949 tons, with a length of 75 meters, a width of 11 meters and a draught of 2.5 meters.
It is stealthy and can deploy a decoy aerosol curtain of chaff clouds to confuse enemy missiles.
Anti-submarine warfare
The Type 056 design of Chinese corvettes may also be classed as a light frigate. Type A056 Jiangdao-class Corvette of the Chinese Navy is the anti-submarine warfare (ASW) variant, which is equipped with variable depth sonars used for detecting and tracking submarines.
It is not entirely clear how many Type 056s are now in service, although it is believed to exceed 50. Although unconfirmed, the number of commissioning is quite plausible. In 2020, it was assessed that there were at least 20 more of the class that had been launched and were fitting out or undergoing sea trials.
Type A 056 corvette has a length of 90 m, a beam of 11.14 m, a draught of 4 m, and a displacement of 1,500 tons. It can reach a top speed of 25 knots with a cruising range of 6,500 km at 16 knots. The rear of the ship has a flight deck that can be used to operate light to medium helicopter as the Z-11 or the Z-9 helicopter
The Chinese corvette is armed with one AK-176 76 mm naval gun, 2 30 mm. automatic cannons, 8 multi-barrel rocket launchers, one 8-cell FL-3000N SAM (Surface-to-air) launcher and 2 triple 324 mm torpedo tubes. 
Baynunah class 
UAE's Baynunah class corvettes are ranked among the world best vessels. Baynunah class corvettes serving the United Arab Emirates Navy were assigned to missions as part of the Arab coalition's military operations to impose air curfew  in Yemen. 
The Baynunah-class corvette were locally assembled by the Abu Dhabi Ship Building ADSB, based on the specifications of French-made Naval Group's Gowind-2500.
Technologically sophisticated, Baynunah class corvettes are 71 meters in length, with displacement of 915 tons, fit for multi-task missions, such coastal guard and security patrols, surveillance, as well as mine detection and disposal operations. The Baynunah class corvettes are also designed to carry out interception and other anti-surface warfare operations.
Baynunah Corvettes are equipped with a host of advanced specifications, namely Saab Microwave systems, Sea Giraffe, AMB surveillance radar, Terma I-band navigation radar, Selex Orion RTN 25 Fire Control X-band radar, and NDS 3070 Vanguard hull-mounted mine and obstacle avoidance sonar. In addition to helicopter deck and hangar, it has OTO Melara 76 mm/62 caliber naval gun, Rheinmetall MLG 27 27 mm guns and Mk 56 dual-pack VLS with RIM-162 ESSM, Mk4 9 mod3 21-cell RAM launcher for RAM block 1A missile system and 8  MBDA MM40 block 3 Exocet missiles.
UAE Navy has 6 Baynunah class vessels, 3 Abu Dhabi class Corvettes, and 2 "Muray Jip" class of Germany's Lurssen. 
Alex Naval Arsenal
Egypt has 4 Gowind-2500 corvettes, 3 of them were locally assembled at the Alexandria Naval Arsenal, in cooperation with French Naval Group, as part of ambitious plan to modernize Egyptian Navy. 
Egyptian Navy also operates 2 Spanish-made  Descubierta class corvettes in addition to former South Korean Navy's Pohang class corvette, that was known as Jinju and entered the Egyptian naval service and was named ENS Shabab Misr, (Youth of Egypt), as a gift from South Korea to Egypt in the framework of the special military relations between the two countries.
Badr Class Top 10 listed
US warships specially made for Royal Saudi Naval Forces, the Badr class appeared on top ten naval corvettes – the Badr class in 2019. It comprises four vessels carrying the names of Badr, Yarmouk, Hateen and Tabuk. The 75 meters long corvettes travel at speeds of 30 knots and are armed with 8 Boeing Harpoon launchers, an Oto Malera Mk 75 naval gun, a 6-barrel Vulcan Phalanx CIWS, an Mk19 grenade launcher, and 6 Mk32 torpedo tubes. It also uses Raytheon's AN/SLQ-32 electronic warfare system to protect against electronic attack measures.
Spain's Navantia has recently handed over the Royal Saudi Navy, 2 out of 5 new advanced corvettes, the Jubail and Diriyah. With length of 104 meters and 14 meters in width, it can accommodate up to 102 personnel and crew. They travel at a maximum speed of 27 knots, with endurance for 21 days. 
Gamal Nazi – (Researcher in military affairs)