Now more than ever, modern armies require updated and developed means of surveillance and reconnaissance, including changing the structure of forces, equipment, and specialized teams.
As modern military operations develop rapidly, defense forces have to keep pace with modern technological developments that can help them achieve their various military missions.
This prompts defense companies to compete in meeting the demand of modern armies, especially in the field of armored vehicles.
In this heated competition, the France-based company ARQUUS emerged as a distinguished competitor, playing an active role in the production of the famous "SCARABEE" armored vehicle, which has succeeded in meeting many of the requirements of advanced armies.
Hybrid combat vehicle
ARQUUS' Scarabee is the perfect combat system for modern armies seeking to equip themselves with light, highly mobile, and heavily armed units.
Thanks to Scarabee's extreme performance in mobility, they can move quickly and easily over large areas, as well as assert control over confined or urban environments.
Scarabee is the first hybrid combat vehicle capable of running on 100% electricity to reduce the acoustic and thermal signature.
It is a mobility system that meets the most stringent running time requirements while providing good protection and cargo capacity for the most modern communication and acquisition capacities as well as significant firepower, which is useful in encounters with the enemy or collaborative combat.
Unique specs
Scarabee is light, compact, suitable for various roads, and equipped with sensors and various defensive weapons.
Scarabee is intended to equip light, highly mobile units with high-performance weapon systems at their disposal. Therefore, these units will benefit from tactical advantages provided by the latest technologies including hybrid propulsion, innovations in ground liaison, survival cell, remote operating, and a reduced cognitive load for the crew.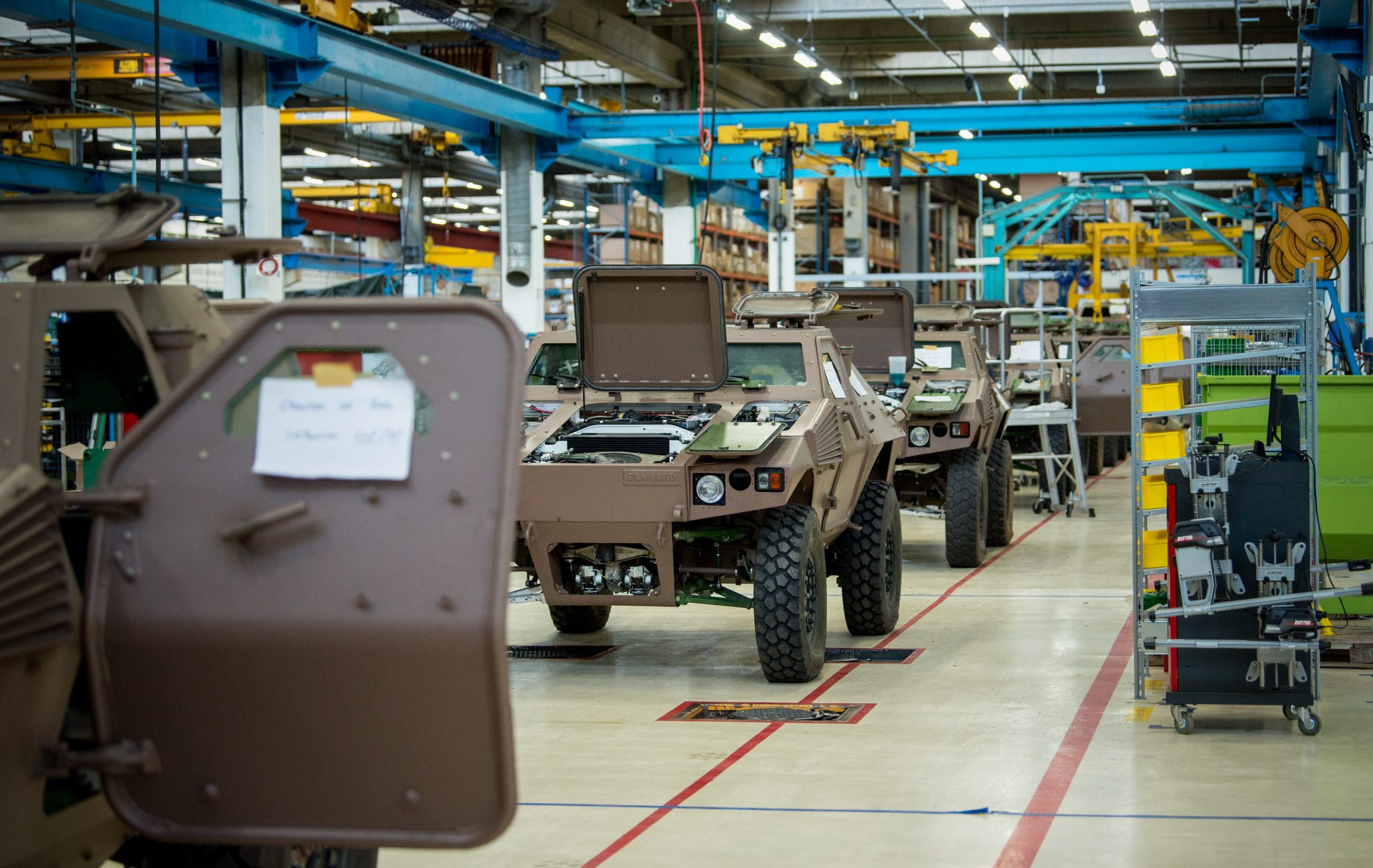 Based on decades of experience designing light armored and reconnaissance vehicles, such as the AMD, the AML, the EBR, or the VBL, Scarabee has been precisely crafted to combine protection, stealth, and high mobility. It has been specifically designed to fulfill the needs of the armies as well as the needs of the crews on the field. Light, compact, fast, stealthy, and very well protected for its class, Scarabee is a difficult vehicle to spot, acquire, lock and target.
The very first modern hybrid-drive armored vehicle, SCARABEE is considered a real revolution in the way reconnaissance missions are envisioned and conducted. Starting at IDEX 2021, Scarabee is now available in three different versions and ready for action in various fields and the toughest condition.
Mobility and speed
As far as mobility is concerned, Scarabee is a very compact scout vehicle, the most important quality in what makes an effective reconnaissance vehicle. Its ability to hide and take cover even in the smallest places allows it to get closer to the enemy line without detection.
The engine
Scarabee has a 300hp V6 diesel engine coupled with a 70kw electric machine. This grants Scarabee high off-road speed, thanks to its high travel innovative suspension system.
Due to its construction and its location at the back of the vehicle, the V6 engine allows very quiet operation in hybrid mode.
The electric machine offers a 100HP boost to the internal combustion engine making this 8T light armored vehicle one of the fastest ever produced, which is an important feature when it comes to bypassing an enemy position, getting to the objective quickly, or evading a threat.
Stealth and Flexibility
When it comes to discretion, Scarabee can switch to 100% electric mode, thereby reducing the acoustic and thermal signature of the vehicle which allows traveling the last 10km to target silently. This new possibility will completely redefine reconnaissance missions.
Scarabee has the ability to approach, observe, analyze, and get back to safety before transmitting its reports to the commanding unit without starting the Diesel engine.
Moreover, the contained weight of Scarabee allows mobility beyond the competition capabilities. With its 8 tons GVWR and its compact size, it can be transported underslung by helicopter and C130 compatible, therefore it can be quickly deployed wherever it is needed.
Scarabee is equipped with independent steering rear wheels, allowing very short U-turns in compartmentalized environments. Equipped with the ARQUUS Hornet RCWS, Scarabee is able to monitor its environment with great accuracy in day and night conditions.
The high-capacity Li-ion batteries (12K Wh) enable Scarabee to remain silent for hours before having to use the engine to refill batteries. Certainly, a second set of batteries to start up the engine simplifies the work of the crew. They can tap into the main battery without worrying about having to restart.
This high level of energy available also allows the use of drones, laser designation systems, short-range anti-drone laser, radar and EW/countermeasures.
Crew
Scarabee comes with a very high-level ballistic protection for its class. The vehicle is built around a survivability cell designed for the protection of the crew against all threats. Scarabee's interior space is specifically designed to optimize communication and collaboration within the crew.
Depending on the version, Scarabee can accommodate 3 or 4 crew members, all able to communicate efficiently with each other, through voice or the built-in intercoms.
The pilot is seated in a forward position to allow for exceptional, 200° visibility, enabling precise and accurate spotting of the surroundings, especially against IEDs. Visibility is even greater thanks to the combat system such as the HORNET RCWS, which enables monitoring the environment with the highest accuracy during day and night conditions.
Electronic systems and armament
Scarabee is also designed to accommodate the most advanced C4ISR systems, including Command and Control, Communications, Computing, Cyber Security, Intelligence, Surveillance, and Reconnaissance, allowing perfect integration into any combat unit or battle team.
Designed as a combat vehicle, Scarabee can load a complete array of weapons. These systems range from small-caliber RCWS to 40mm grenade launchers and all generations of missiles, from the Milan ATGM to its state-of-the-art successor, the Moyenne Portee missile, though It is also specifically optimized to carry a Hornet range RCWS.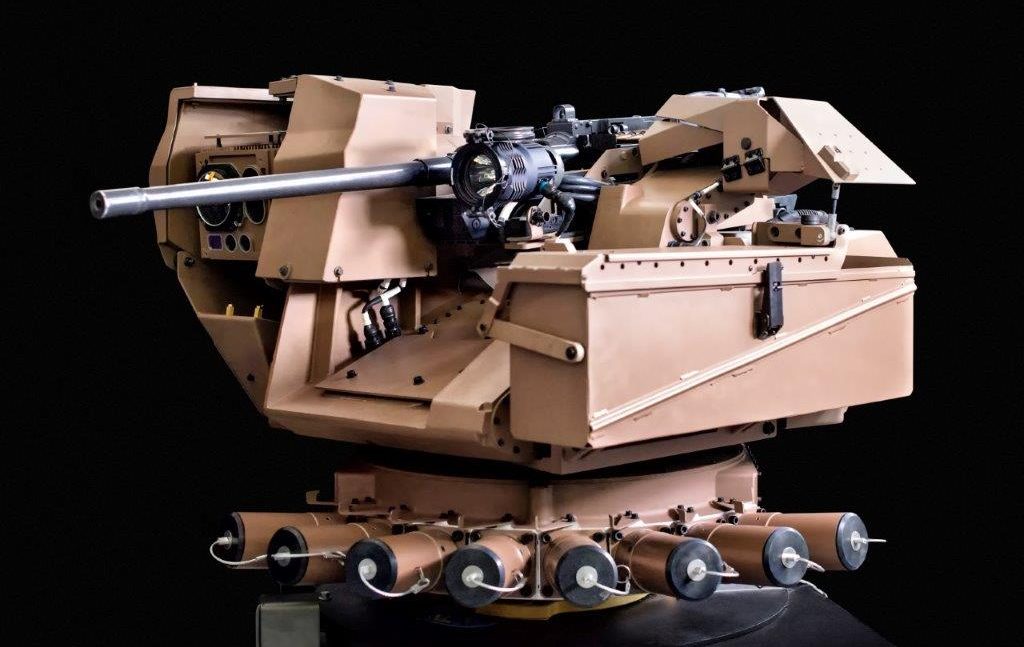 SCARABEE can be equipped with ARQUUS' BATTLENET battle management system (BMS) as well as the HORNET RCWS.
Scarabee's Hornet RCWS is equipped with superior ballistic protection and an automatic smoke grenade launcher mounted on an independent ring. Because it is equipped with a gunfire locator, the Hornet can automatically turn and face the threat, while also engaging the smoke protection, when Scarabee is illuminated by a laser rangefinder or a beam rider.
As the weapon axis and the smoke grenade axis are independent, the gunner can keep the weapon focused on the tactical mission underway while the smoke grenades launcher protects the vehicle.
With Scarabee, Arquus can offer a full package including the vehicle, Arquus' Battlenet BMS, and a Hornet RCWS, as a complete weapon system with unmatched capabilities.
Scarabee offers unmatched versatility, making it the perfect tool for missions such as reconnaissance, tank guidance, hunter-killer, light cavalry, quick response force, anti-tank, fire support, urban combat, and Special Forces.
Scarabee's Specifications
WEIGHT AND DIMENSIONS GVW: 8 t
DIMENSIONS (L x W x H): 5,25 x 2,1 x 2 m
GROUND CLEARANCE: 0,385 m
MAX CREW: 3 (+ 1)
DRIVELINE
Configuration: 4×4
Engine: V6 VMM + electric machine 400 v
Power: 300 hp + 70 kW electric (100 hp)
Transmission: Automatic (8+1)
Suspension: Fully independent with variable-height
Tires: 365 / 80 R20
Performance
Fording: 0.8 m
Vertical obstacle: 0.4 m
Trench: 0.9 m
Side slope: 40%
Gradient: 60%
By: Ikram Ben dalla (military researcher)