In the world of defence technology, innovation and versatility are the keys to success. The Milosh 2 Multi-Purpose Armoured Vehicle, manufactured by the Serbian state-owned defence company Yugoimport SDPR, is an excellent example of innovation in the field of defence.
This remarkable armoured vehicle is a symbol of Serbian engineering prowess, combining cutting-edge technology with a wide range of applications.
Moreover, Yugoimport SDPR has established itself as a reliable supplier of military equipment, earning a reputation for quality and innovation.
The development of Milosh 2 began with the aim of creating a highly adaptable armoured vehicle that could serve various military and security roles, achieving excellence in multiple environments and operational scenarios.
Global Impact
The Milosh 2 Multi-Purpose Armoured Vehicle have made a significant impact on the global defence industry. It has garnered interest from military forces and security agencies around the world, seeking modern and adaptable armoured solutions.
Yugoimport SDPR's commitment to quality and innovation has propelled the Milosh 2 into the international spotlight, establishing it as a credible player in the global defence market.
The vehicle's cost-effectiveness, coupled with its performance capabilities, has made it an attractive option for countries looking to modernize their military fleets. Thus it found its way into the arsenals of several nations, strengthening their defence capabilities and increasing their operational flexibility.
Furthermore, the Milosh 2's success highlights the potential of Serbian defence industry players to compete on the global stage. It serves as a testament to the skills and expertise of Serbian engineers and manufacturers, showcasing their ability to develop and deliver cutting-edge military technology.
Design and Architecture
The Milosh 2 Multi-Purpose Armoured Vehicle's design strikes a balance between mobility, protection, and firepower, making it suitable for an array of mission profiles. The vehicle's architecture prioritizes modularity, ensuring that it can be easily customized to meet the specific needs of different users.
The ability to configure the Milosh 2 for various roles is a testament to Yugoimport's commitment to providing adaptable solutions to meet the ever-changing demands of modern warfare.
In terms of mobility, the Milosh 2 is equipped with a powerful engine and a robust suspension system that allows it to traverse challenging terrains with ease. Whether it's rugged mountainous terrain or urban environments, this armoured vehicle can maintain a high level of mobility, ensuring that it remains a valuable asset to military and security forces.
The Milosh 2's armour protection is another critical aspect of its design. The vehicle's modular armour can be upgraded to protect against a range of threats, including small arms fire, artillery shell splinters, and chemical, biological, radiological, and nuclear (CBRN) agents.
This adaptability to different threat levels enhances the survivability of the crew and passengers, a vital factor in modern conflict scenarios.
It comes with Level 3 ballistic protection as per STANAG 4569 and anti-mine protection Level 2а and 2b as per STANAG 4569.
Key Capabilities
The Milosh 2 Multi-Purpose Armoured Vehicle boasts a maximum speed of 100 km/h, and its wide range of features and key capabilities enable it to perform multiple missions including patrol missions, reconnaissance missions, as a command vehicle, for transportation and support to the units for special operations, in anti-guerrilla, anti-terrorism and anti-tank operations, for the border and territory control, etc.
Firepower: the Milosh 2 can be equipped with various weapon systems, including machine guns, automatic cannons, and anti-tank-guided missiles. This firepower ensures that the vehicle can engage and neutralize threats effectively.
Communication and Command: The command and control variants of the Milosh 2 are equipped with state-of-the-art communication systems, making them ideal for coordinating operations and serving as mobile command centres, moreover, it has a fording capacity of 0.8 m.
Reconnaissance: Reconnaissance variants are equipped with advanced sensors and surveillance equipment, allowing them to gather critical intelligence and provide situational awareness to the entire force.
Transport: The armoured personnel carrier variant can transport troops safely to and from the battlefield.
Counter-Terrorism: The Milosh 2 can be adapted for counter-terrorism operations, offering a secure and agile platform for special forces in urban and close-quarters combat situations.
Versatility: The modular design of the Milosh 2 allows for rapid reconfiguration to meet specific mission requirements, making it a cost-effective solution for military and security forces.
This armoured multi-purpose combat vehicle features a 4×4 drive and belongs to the category of modern armoured vehicles intended for the performance of a wide range of missions in the activities of police and armed forces.
The main concept of this 10-seater vehicle is based on a self-supporting hull, modern drive and transmission assemblies and an independent suspension system which ensures high mobility in any terrain and weather conditions with the maximum combat weight exceeding 18 tons.
Infographic
MILOSH 2: Armored wheeled vehicle, with 4 side doors, hydraulic ramp on the rear, with door incorporated, and 2 roof hatches.
Drive mode: 4×4 (non-switchable)
Length, overall (incl. winch): 6.5 m
Width (excl. side rear view mirrors): 2.61 m
Height, to the roof panel (load – 18 t): 2.38 m
Height, incl. 20/3 mm RCWS: 3.25 m
Weight, empty vehicle: 15.5 t
Max. weight: 18 t
Number of seats: 10
Protection: Ballistic protection Level 3 as per STANAG 4569 and anti-mine protection Level 2а and 2b as per STANAG 4569
Characteristics
Front approach angle: 45°
Rear approach angle: 40°
Fording capacity: 0.8 m
Vertical obstacle: 0.5 m
Clearance: 0.41 m
Max. Speed: 100 km/h
Fuel type and tank: Diesel, volume 290
Transmission type: Automatic, with retarder
Vehicle Video System
Camera type: Day camera (night vision camera when combined with IR lamp)
Cameras total number: 4 (1 front camera, 2 side ones, and 1 rear one)
Armament
RCWS 20/3 mm KERBER
RCWS 20 mm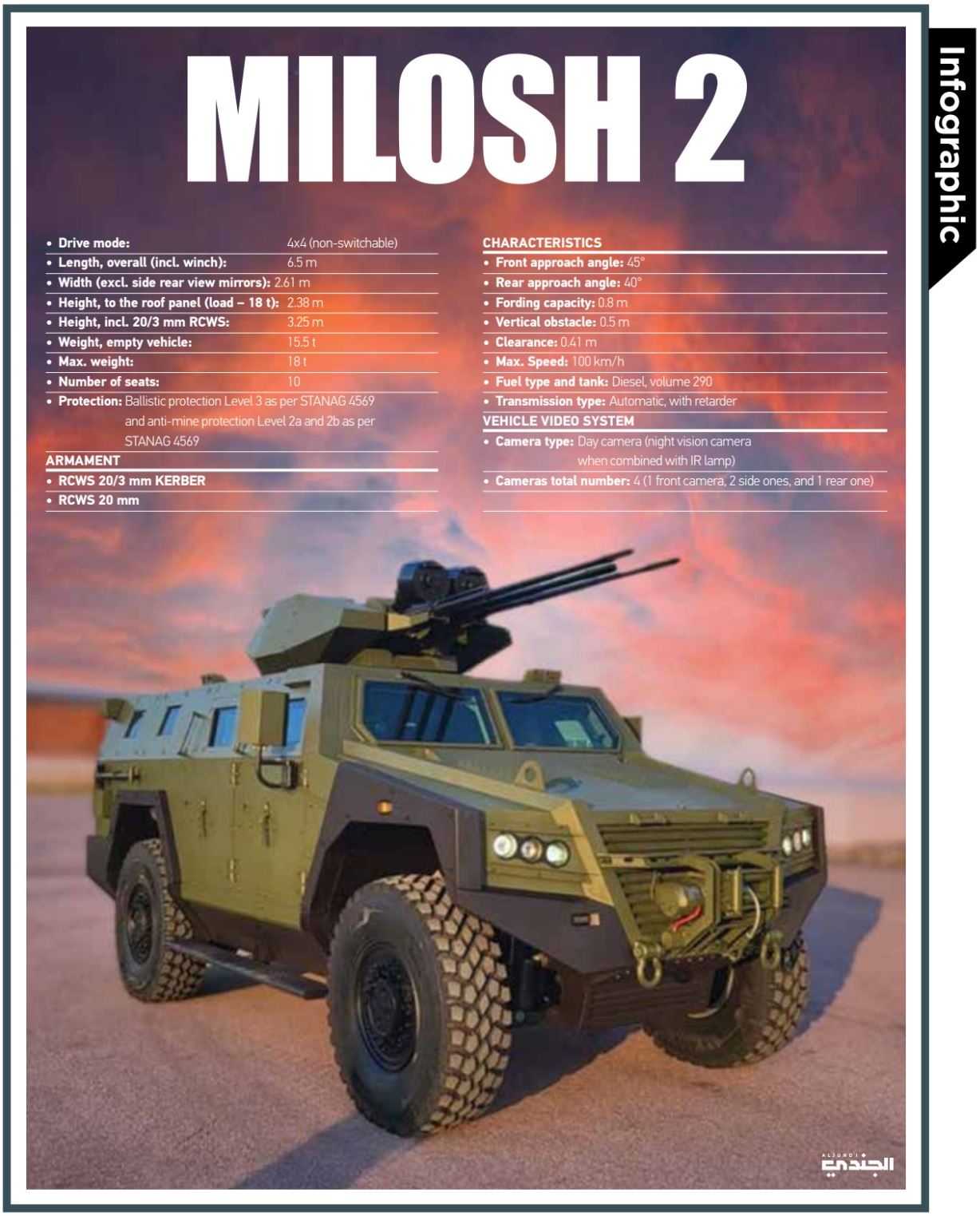 By: Ikram Ben dalla (research specializing in military affairs)