Today, the world faces changing threats that require defense forces to be well-prepared, flexible and able to respond quickly to risks while carrying out security and military missions.
The protection and security of various military tasks is one of the most important requirements that the armed forces must have in order to be able to properly and effectively protect the environment in which they operate to ensure the protection of lives and assets.
Effective solutions
Rapid developments in the battlefield of military and security operations in various countries of the world are constantly pushing defense companies to find adaptive and effective solutions that help achieve the success and completion of various and more complex tasks on land, sea and air, by creating practical, ultra-strong products such as camping products provided by the Canadian company ROBUS, a leader in meeting the requirements of protecting various military equipment and mechanisms in defense missions in many armies of the world.
Hi-Tech Design
The ROBUS military system is an all in one outdoor product that is versatile flexible that can be operational in 5-10 minutes, and designed for speed and efficiency. This Canadian patented initiative incorporates advanced mechanical technologies with proven structural design expertise for a variety of defense and military requirements.
The lightweight aluminum frames are engineered for performance and durability along with the highest quality materials that are used throughout to ensure the system is capable of operating at full military capabilities and withstanding all types of harsh conditions and weather from torrential rain to the desert or arctic.
ROBUS
The ROBUS military system is an ideal shelter solution to protect and cover military sensitive equipment such as radars, missiles, vehicles or air crafts under extreme weather conditions. The ROBUS transports on its integrated trailer, which is deployed without any man-related constructions, in less than 10 minutes. This patented technology aims to open up a new category, with features of expanding capabilities. Its ability to deploy in the harshest climates, with a minimum manpower of one to two people. The structure of the versatile mobile system includes modern hydraulic components that are ready for any environment and any site, as they work efficiently for various tasks, such as disaster area command centers, battlefields, medical field hospitals or first aid centers, and are quickly adaptable to various products of the world's leading manufacturers military equipment, or to be used for maintenance tasks to protect valuable military assets in all weather conditions and locations. The Canadian company provides its customers, through the latest modeling and simulation programs, the ability to choose external and internal specifications that suit various military requirements, with the possibility of providing the system with camouflaged specifications.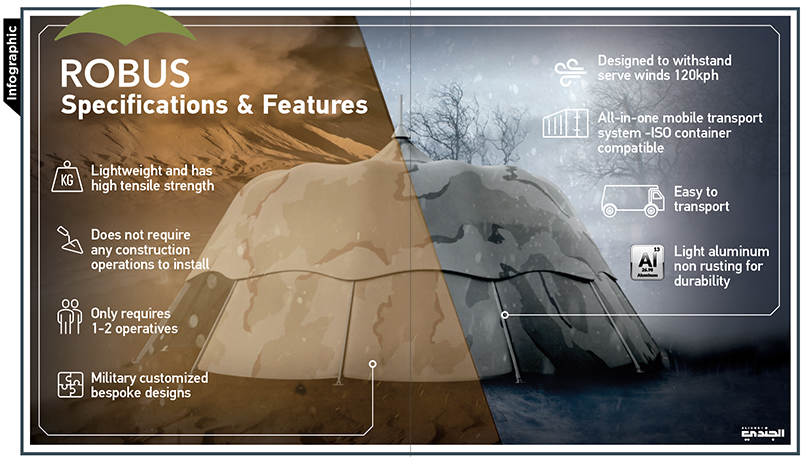 » By:Ikram Bandala
(a military researcher)