Tanks have always played a pivotal role in both conventional and unconventional wars, becoming one of the main elements in the arsenal of the strongest militaries around the world, having proven their effectiveness as a decisive force in warfare.
The major successes achieved by this strategic weapon sparked a competition between the world's strongest armies on the one hand, and the titans of the global defence industries, on the other, to produce and develop the most powerful and modern tanks ever, because of their ability to carry out the most complex military tasks on various combat fronts and asymmetric wars.
Today, ground forces require a new generation of tanks characterized by speed, diversity, flexibility, and agility, while maintaining advanced offensive and defensive capabilities as well as appropriate levels of armour for various forms of conflicts.
Therefore, the largest defence companies work to employ the latest smart technology in the development of tank mechanisms, to suit their rapidly evolving and unpredictable battlefield needs.
Tiger Tank
Based on the requirements of military modernization, dozens of tanks have been produced around the world over the past few years to meet the urgent requirements of armies and ground forces, perhaps the most prominent of which is the "Kaplan-MT" tank.
Supported by the defence ministries in both countries, this tank is the result of successful cooperation between Turkey and Indonesia.
This tank is known as "KAPLAN-MT" in Turkish, "Harimau" in Indonesian, and "Nimr"(tiger) in Arabic.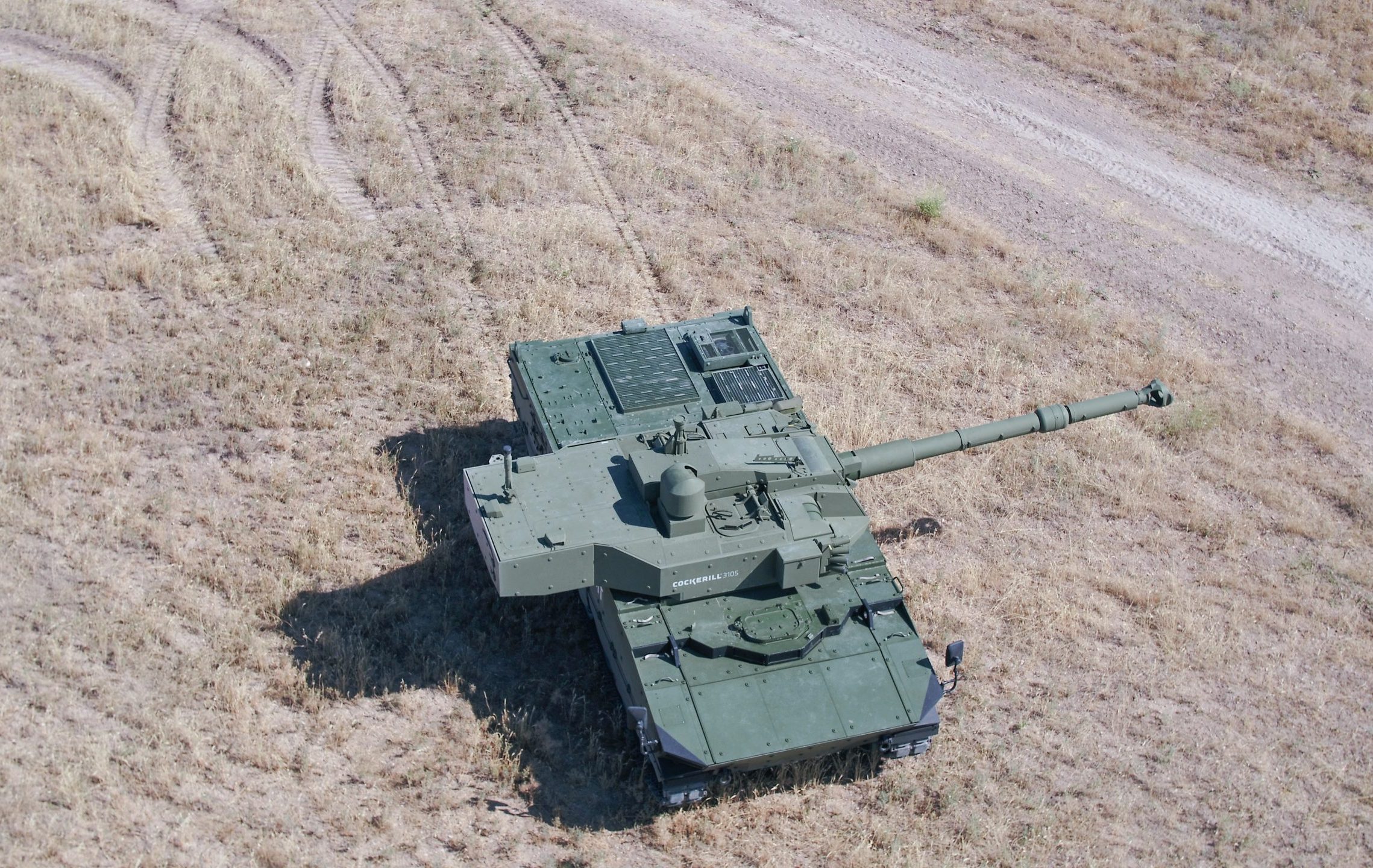 Unique Capabilities
Developed by FNSS in cooperation with the Indonesian company PT PINDAD, the KAPLAN MT plays a vital role on the battlefield, given its ability to fire direct projectiles with a high degree of accuracy, multiple ammunition options, and superior strategic tactics.
Turkey-based, FNSS revealed the first model of the medium-weight KAPLAN tank, designed with a rear power pack, during the 13th International Defense Industries Exhibition, IDEF, in Istanbul in May 2017.
The Kaplan-MT tank, which constitutes Turkey's first export contract in the field of tanks, features a Battlefield Management System (BMS) and a Laser Warning System (LWS) for rapid intervention, as well as an advanced ballistic protection system and another for mine protection.
Testing
The KAPLAN tank underwent rigorous testing on rugged terrain on the Indonesian island of Java, passing all qualifying tests, before moving to the mass production stage.
This unique tank was designed to meet the needs of the Indonesian Armed Forces for modern medium tanks, in addition, it participated in the 72nd National Day military parade of the Indonesian Armed Forces in October 2017 in Cilegon, appearing in front of the masses.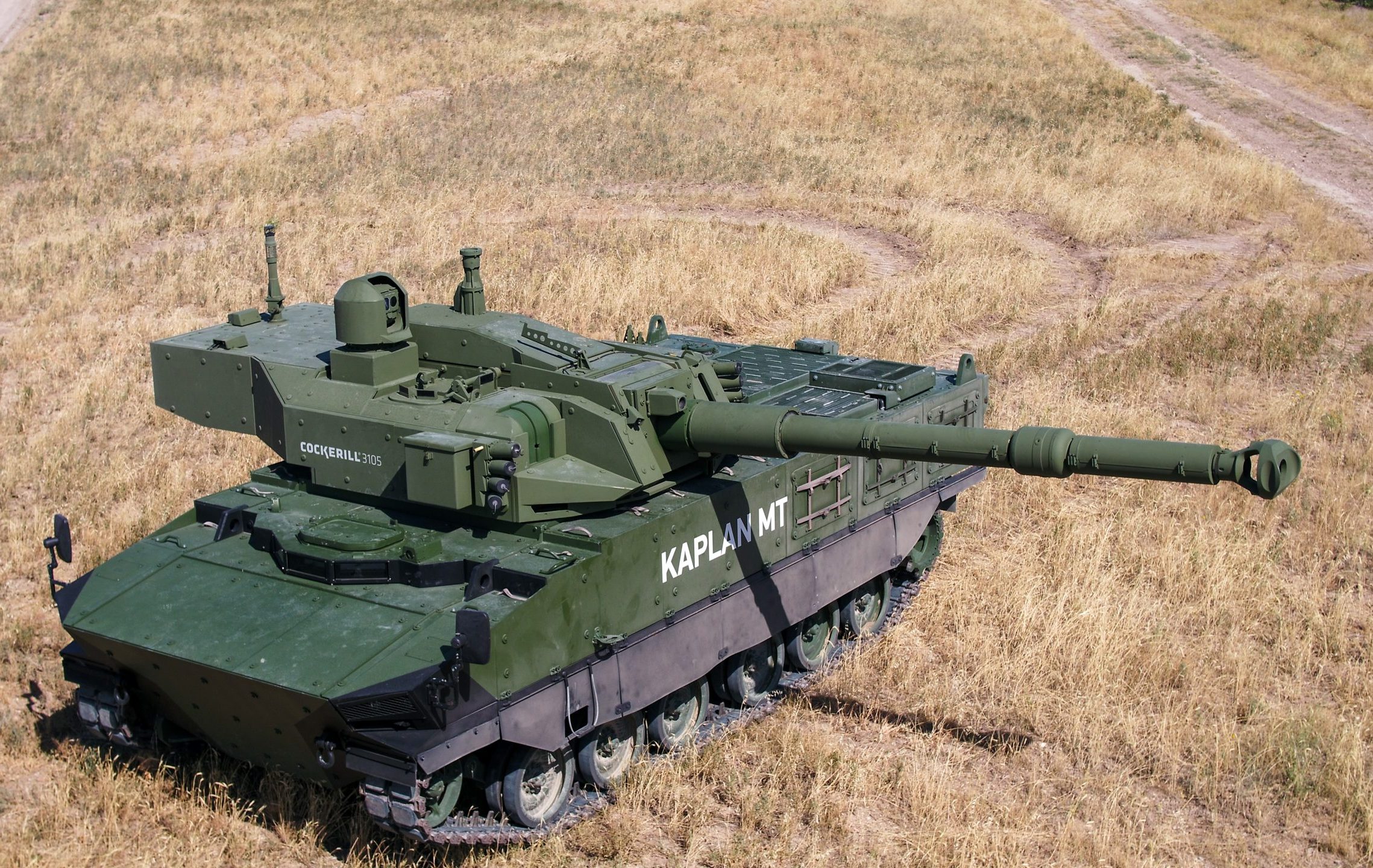 Strength and Flexibility
Thanks to its advanced technical and strategic mobility capabilities, the Turkish-Indonesian tank successfully combines its ability to adapt to the terrain with the advantages of superior driving control and manoeuvrability, especially in rugged mountainous terrain, difficult to enter by main battle tanks, as well as roads with weaker bridges, where it derives its mobility from a robust 6-wheel suspension system based on double tracks and torsion bars.
The unique design of the Kaplan-MT provides the lowest silhouette and highest power-to-weight ratio in its class, in addition, its platform is designed for optimum weight and high mobility performance, with a range of 450 km, and a maximum speed of 70 km/h.
The Kaplan-MT tank can operate at a maximum temperature of 50 degrees Celsius, and a minimum temperature of 30 degrees Celsius.
Furthermore, this tank features the latest advanced technologies, deriving its power from a diesel engine with a capacity of (20 HP/ ton) located in the rear, and a fully automatic transmission, as well as enough space for 3 crew members (driver, gunner and commander).
The Auxiliary Power Unit (APU) ensures the availability of continuous power during day and night, with reduced signature during night operations where the vehicle operates mostly in a static position.
Combat capabilities
This tank comes with unique combat capabilities, as it can be equipped with a variety of weaponry, from weapons that provide close fire support, to anti-armour.
The tank's firepower relies on the high-pressure 105 mm Cockerill cannon, and the latest generation of the CMI Cockerill 3105 turret, featuring an advanced autoloader, which gives the tank a unique punch against armoured targets, despite its light weight.
The 105mm Cockerill® 3105 Turret is the most advanced and capable in its class, ideal for infantry and medium tank support missions, and has a unique indirect fire capability that allows it to be used in urban engagements and other complex terrains.
The Tiger MT also provides its commander with tactical advantages through a battlefield management system (BMS) and a laser warning system (LWS).
The interior of the vehicle is engineered with careful consideration of the ergonomics of the crew and different tactical and battlefield conditions including driving, firing and ammunition load/unload.
The interior of the tank is designed to take into account the crew's ergonomics, tactical conditions, and various battlefield conditions, including driving, firing, and ammunition loading and unloading.
In addition, this tank comes equipped with day and thermal cameras for the driver, a multi-functional digital driver dashboard and a 3rd generation high-performance sighting system for the gunner and commander, furthermore, a Battlefield Management System (BMS) and a Laser Warning System (LWS) provide tactical and situational awareness.
Protection and shielding
The KAPLAN MT's design architecture provides a superior level of battlefield survivability, using advanced ballistic and best-in-class mine protection systems, as well as adequate firepower that ensures a near-instant response against most threats on the battlefield.
Infographic
By: Ikram Bendalla (researcher specializing in military affairs)