It is no longer possible to rely on unprotected logistical support vehiclse behind the front lines in asymmetric wars that we are witnessing today, due to the multiple fronts of attack. Therefore, the UAE company, Nimr, which is part of the platform and system sector of EDGE Group, has manufactured a six-wheel- drive armored vehicle (6 × 6). It was called "Hafeet" and Nimr produced 5 categories to meet all requirements, namely: (First: Hafeet 630A, Hafeet Armored Ambulance, Hafeet 620A, Hafeet 640A, and Hafeet 620).
Goals of the company
Nimr seeks through its vehicles to achieve development in technical excellence, dynamic performance and exemplary structural design.
All Hafeet vehicles depend on the six-wheel drive structures, which contributes to standardizing training, reduces maintenance and spare parts burdens, and reduces operational costs and machinery life cycle costs.
Nimr's vehicles are designed to meet military standards, as their service life exceeds commercial vehicles converted to military or subsequently armored vehicles or vehicles that use propulsion systems derived from commercial vehicles.
The new vehicles are characterized by advanced specifications in reducing the impact of explosions and protection from ballistic missiles, and provide high levels of protection in the harshest environments. It is designed and engineered to meet the most demanding mission requirements, and its monocoque structure provides a higher degree of structural rigidity that contributes to increased flexibility and responsiveness.
The Hafeet 6×6 range of vehicles provides a multi-purpose platform for all military requirements with a gross weight of 17,500kg, and covers a variety of uses from support and supply vehicles to fully protected patrol vehicles.
Hafeet 630A
"Nimr" company caught the attention of visitors and exhibitors during "IDEX 2021" exhibition that was organized in the UAE capital last February, when it displayed the second generation of "Hafeet" six-wheel – drive vehicles.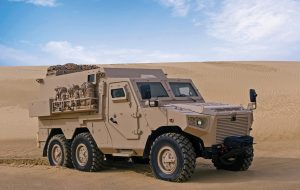 The "Hafeet" A630 series is characterized by an ideal combination of payload, ease of movement and protection. It is a vehicle dedicated to services, support and supply of front lines and the safety of individuals.
This version accommodates six crew members (and an optional seventh seat) and a separate protected compartment for storing ammunition according to mission requirements, and is designed to optimize load capacity in the harshest environments, while providing high levels of protection to enhance crew survivability, and the vehicle is compatible with a variety of missions and weapon systems.
Hafeet armored ambulance
It is a six-wheel-drive vehicle (6 × 6) armored against ballistics and blasts, and is designed to provide integrated medical care for casualties on the battlefield.
The vehicle can accommodate (7) people, including the driver and commander, while in the back it can accommodate (5) people, represented by a paramedic (1) and two people on two medical stretchers (2) and two additional seats for the injured (2). They can enter the back cabin through the back door of the vehicle. The high ceiling of the armored ambulance vehicle spares additional space, helping to equip it with a variety of medical equipment.
Hafeet 620A
The Hafeet 620A 620A armored vehicle provides an ideal combination of payload, flexibility and protection for crew members, and is used for both logistical and general use purposes.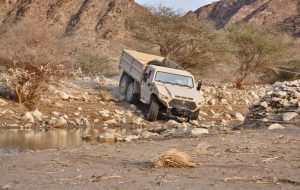 Its two-person cab is equipped with a large cargo box, and is designed to provide maximum payload capacity in the harshest environments while providing high levels of protection to enhance crew survival chances. It can also be equipped with a variety of weapon and mission systems, and bases for installing specialized shelters.
Hafeet 640A
The Hafeet 640A provides a unique six-wheel-drive platform (6 × 6) with a cabin that seats four. It is equipped with an armored cabin that provides the necessary protection for the crew against explosive charges, ballistic missiles and mines. The vehicle is available with an expanded rear cargo platform that can be configured for a variety of uses including mounting artillery systems or heavy-caliber weapons and can be used for multiple tasks such as communications and self-defence when equipped with a weapon platform, and can also function as a protected logistical support vehicle.
Hafeet 620
This vehicle is highly flexible, with a two-person cabin and a large rear cargo box. This allows the user to configure it to transport various payloads or to equip it with other systems according to operating requirements.
The vehicle provides exceptional off-road capability with unmatched reliability and performance.
The vehicle is available in two variants, one with a protected cabin and the other without protection, and it is designed with features that allow visibility from all sides so that there is a distinct awareness of the surrounding environment.
By: Ikram Bendalla (Researcher in Military Affairs)