Since their emergence on the battlefield, armored combat vehicles have seen great developments, playing prominent roles in many warzones and conflicts around the world and becoming an important part of the military power of modern armies.
The great success achieved by armored platforms of all kinds has ignited competition between the giants of the defense industries in the world, as military companies are constantly working to develop this weapon in line with the requirements of advanced armies to ensure the continuity of their superiority and success in performing their tasks and meeting the requirements of victory in the battlefields.
Today, defense companies are working to integrate the most cutting-edge technologies into the mechanism of combat vehicles, and employ the latest breakthroughs in modern technology in their manufacturing process, whether in terms of speed, shielding, or various forms of armament, it is no longer possible to rely on unprotected vehicles in today's asymmetrical wars characterized by various fighting fronts.
STREIT group
Perhaps the most prominent defense company that has succeeded in meeting protection requirements and employing modern technology in the manufacturing process of armored vehicles is the international "STREIT Group", which armed with 30 years of experience and expertize in the defense industry, specializes in the manufacturing armored vehicles.
DHABI MRAP
STREIT Group has recently launched a unique and advanced armored vehicle called "DHABI", which was specifically designed to meet the needs of the armed forces of the UAE and support their efforts to achieve and maintain stability in the region.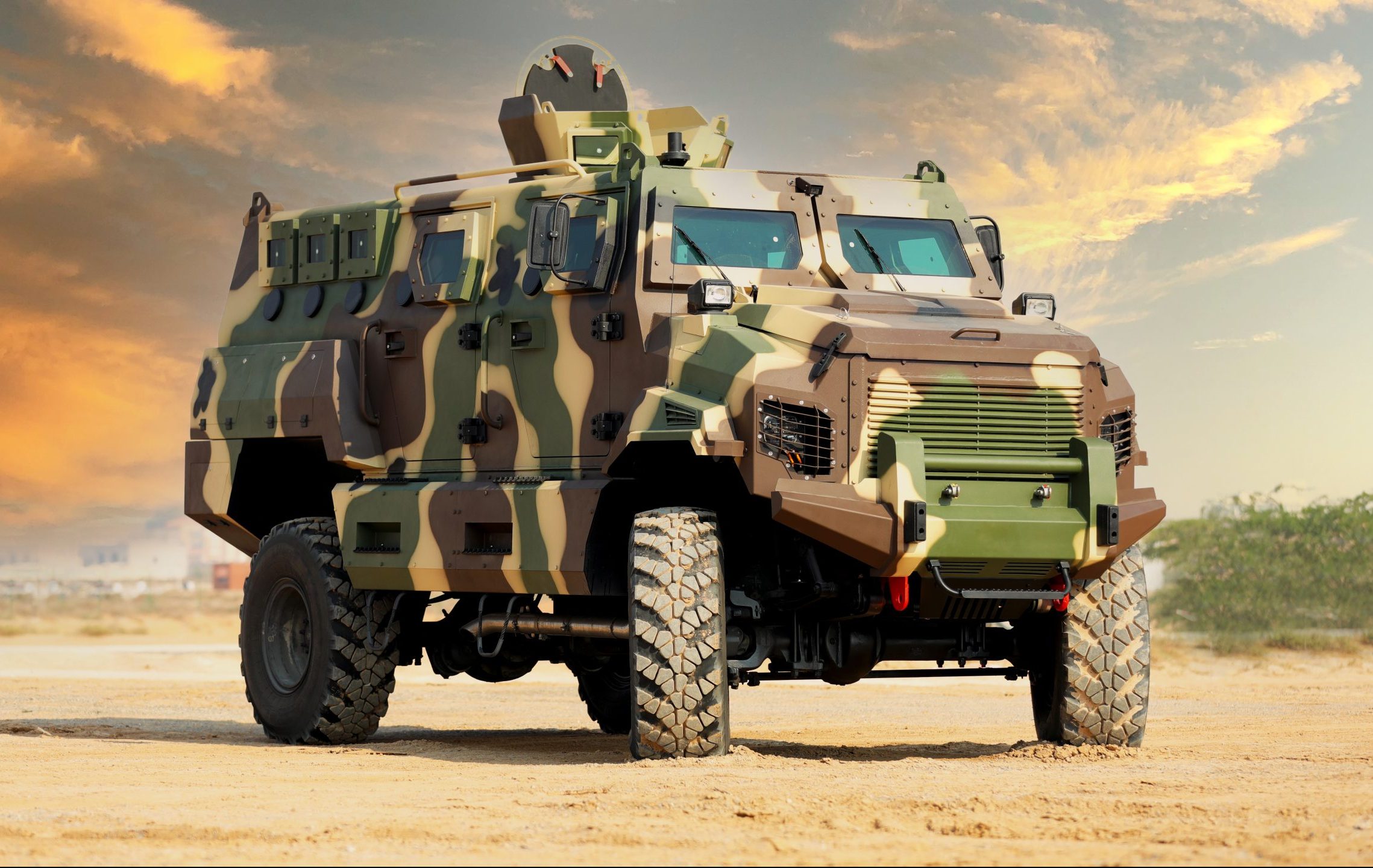 DHABI MRAP (mine-resistant ambush armored vehicle) combines the best technologies from around the world.
Unique features and international specifications
This modern vehicle is robust, rugged, and has the ability to provide exceptional protection in challenging environments around the world.
DHABI features both RHD and LHD steering orientation.
The standard version of the DHABI armored vehicle comes equipped with all technological developments in heavy armoring and a solid axis suspension system, providing flexibility of movement and comfort on roads and off-road.
Protection and shielding systems
This 4×4 MRAP vehicle is designed using cutting-edge technologies to operate in the first line of defense with a crew capacity of 12 (a driver, commander, and 10 crew members).
DHABI relies on a V-shaped structural design to provide a high level of protection, as the angle of its structure helps to distort waves of explosions and debris away from the crew and troop compartments, and the ground clearance of the armored vehicle enhances its protection from mines.
DHABI was also equipped with an overpressure protection system, a fire suppression system, as well as run flat inserts, and a self-recovery winch.
The advanced vehicle is equipped with heavy armor, advanced adaptive blast protection,and level 3 (STANAGE 4569) balistic mine protection, and it can also be equipped with additional level 4 armor plates, making it the most cost-effective armor in its class.
Dimensions
DHABI is 6.8 meters long, 2.76 meters wide, and 3.34 meters high, with a ground clearance up to 300 mm.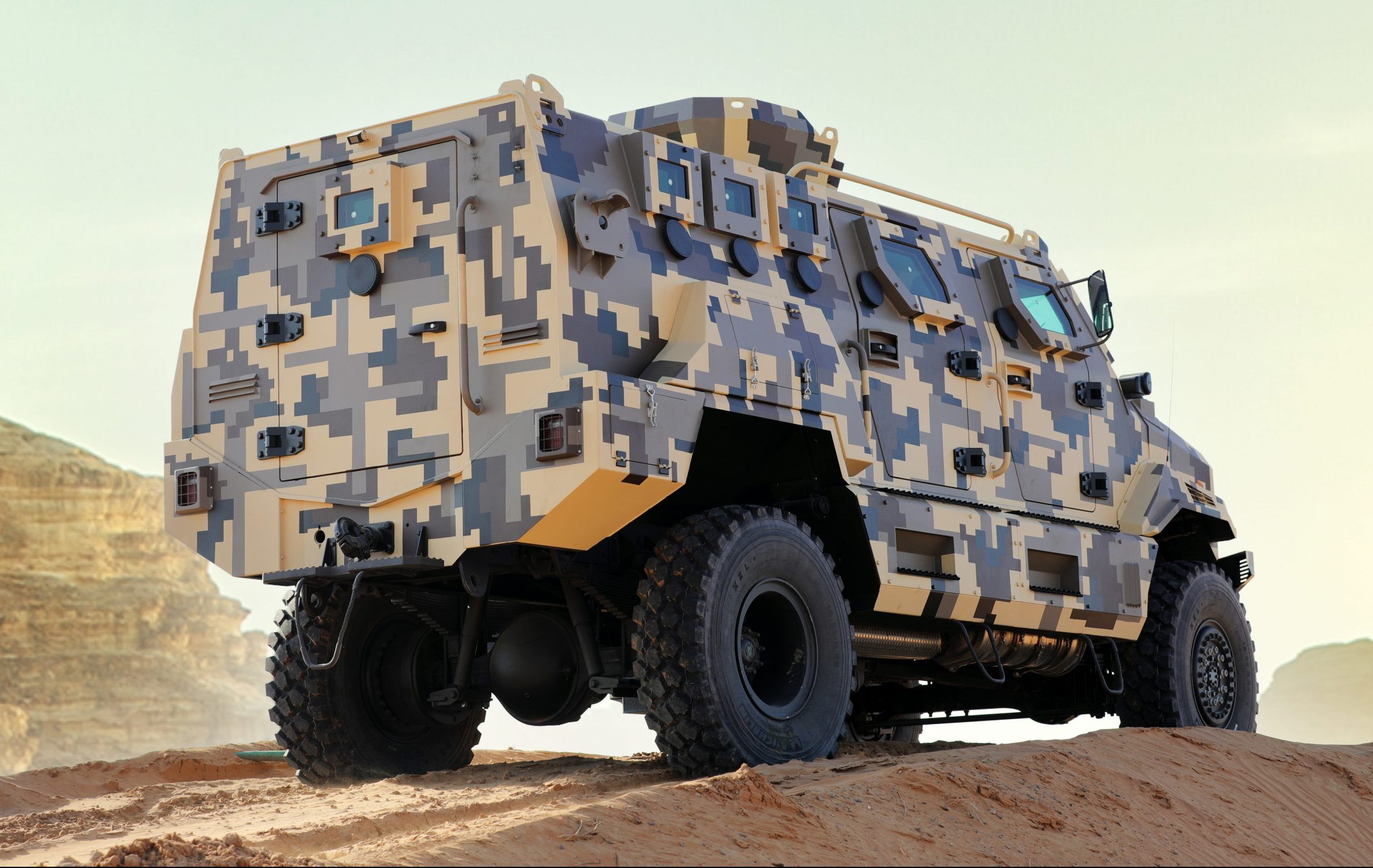 It has an approach angle of 39 mm and a departure angle of 37 mm, and the weight of the empty armored vehicle is 18 tons, reaching 20 tons in combat mode.
Versatility
DHABI, which earned the trust of customers, is capable of performing different military roles, such as troop carrier, and ground support vehicle for infantry, and can be easily configured to work as a command and control vehicle, a medical evacuation platform, or a long-range border patrol vehicle.
Space and design
DHABI has a traditional design, where the engine is in the front, the crew seats are in the middle, and the troop compartment is in the rear.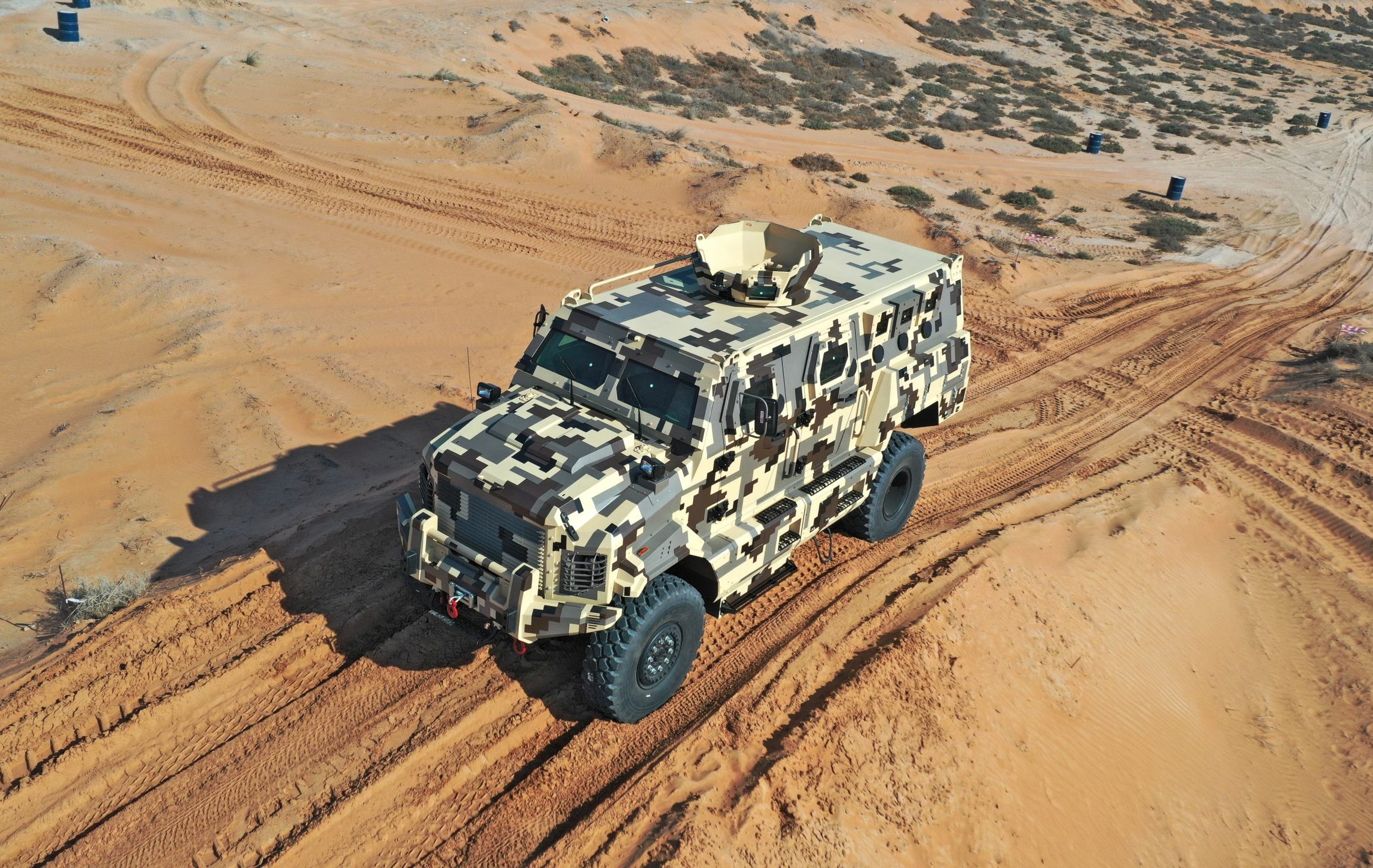 The vehicle is also equipped with two side doors located on both sides of the hull and three small bulletproof windows with a firing port on each side of the troop compartment.
Troops enter and leave DHABI through a single door located in the rear of the hull, which opens outwards.
The rear part of the hull contains a large interior space and comfortable individual and anti-mine blast seats for soldiers.
The engine
The DHABI is motorized with one 6.7 Cummins Diesel engine that generates 300 hp coupled to a fully automatic transmission and a fuel capacity of 300 liters.
Armament systems
The roof of the DHABI can be fitted with a one-man open-top turret armed with one machine gun up to 12.7mm caliber, and according to customer requirements, the vehicle can be also equipped with remotely operated weapon stations (RWS) and smoke grenade launchers.
The vehicle has advanced searchlights and a PTZ camera on an extendable mast.
Advanced communication technology
DHABI is equipped with satellite communications systems, high frequency (HF) and very high frequency (VHF), to ensure effective communication while performing complex missions in various places and under the most difficult conditions.
Infographic
By: Ikram Ben dalla (Researcher specializing in military affairs)